TESTIMONIALS
A Better Tomorrow, Starts Today!
Proudly Protecting & Serving Veterans
 throughout Martin & St. Lucie Counties, since 2013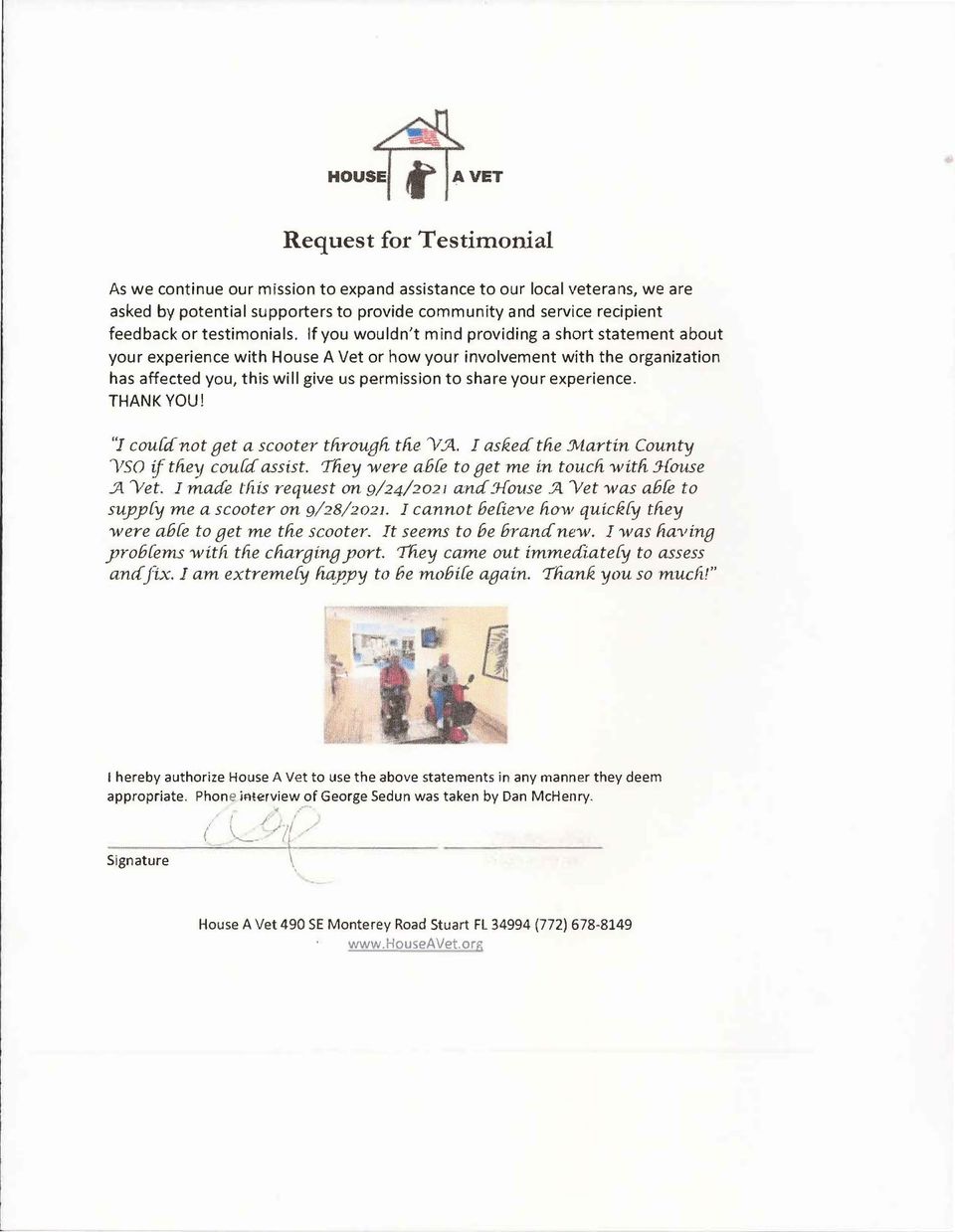 ★★★★★

"An exuberant hello to whom it may concern.
My first encounter with HOUSE A VET was about a year and a half ago and was kind of by accident. As I approached Kevin Donahue, the Director, I was immediately impressed by his and his staff's friendliness and approachable demeanor.  A few weeks later, a crew of veterans came by my house and repaired my roof and painted the exterior of my Mobile Home.  Now I was moved.  What further impressed me was the weekly food service [even to the ones living in the woods] and the once-a-week hot lunches [cooked by Charlies' Bar & Grill] - and I never had a bad one.  All I can say, and this one comes from the heart, Kevin Donahue and his staff are doing an excellent job for our local veterans - like anything never seen before and I hope and pray that this HOUSE A VET organization continues the excellent job they've been doing to this day.  All my best and God's blessings to an organization in service to some severely succumbed veterans."- Harold

★★★★★

Kind generous VETS WHO ARE LOOKING TO HELP OTHER VETS... AMAZING PEOPLE

- fnaf  fan023

★★★★★

House A Vet has given me a place to meet and visit with the volunteers as well as other veterans.  Once a week meeting, and a  great lunch has helped me to add structure to my sober life.

- Jeff D. June 9, 2021

★★★★★

GREAT PLACE AND PEOPLE.  Brothers in arms to me.  Good lunches and pantry items.  They help me survive.  Love it here!

-JL   June 9, 2021

★★★★★

It is nice to know that programs like this exist. I am happy to be a part of House A Vet because of the people I have gotten to meet, and the amount of help there is available to Vets.  This includes housing, food and social gatherings.  I am thankful for the pantry also since groceries down here are expensive.

-Blake D - Veteran June 2021 

★★★★★

House A Vet is a great outreach program for veterans in the Port Saint Lucie and Martin counties.  They provide a no charge food pantry. Volunteers bring food and other necessities to those in the outlying areas.  On Wednesday they have lunch and learn programs.  The food is provided by Charlies and  Mission Barbecue.  On the learning side of it, they have volunteer speakers.  The subjects will vary from aspects of banking to VA benefits and other topics.  This is  great information to those that need these services.  House A Vet welcomes volunteers to help out and that makes a big difference in a veterans life.  I have volunteered when I can.  It is an honor to serve those who served this great country.  In closing, House A Vet is expanding and will be providing more services in the future and will always welcome volunteers and other organizations to help make this happen

-Jon H - U.S. Army Veteran June 2021 
More Testimonials and Reviews Coming Soon!
Support House a Vet by sending in a Testimonial, using the form below.  Thank you!